Did you know? NMC Members get 20% off Summer Camps!
*Discount is applied to the regular price and cannot be combined with other offers.
Calgary's favourite music camp for youth is happening at Studio Bell this summer!
Registration is now open for youth ages 9-12 to attend National Music Centre's Build a Band summer camps in July and August. These one-week camps are great for kids who love music, with a focus on learning to play musical instruments and performing as a group.
About NMC's Build a Band Summer Camps
Location: Studio Bell, home of the National Music Centre
Time: 10:00 am to 4:00 pm
Duration: One week
Ages: 9-12
Ever wondered what it takes to be in a band and jam out? This program focuses on learning how to play musical instruments and performing as a group.
We will guide you through the process of songwriting, performing, and marketing your band. From a recording studio tour to daily workshops on jamming, riffing, and creating music, this program wraps up with a jam a long performance where you can show off your newfound skills as a band.
Basic musicality/musical knowledge recommended.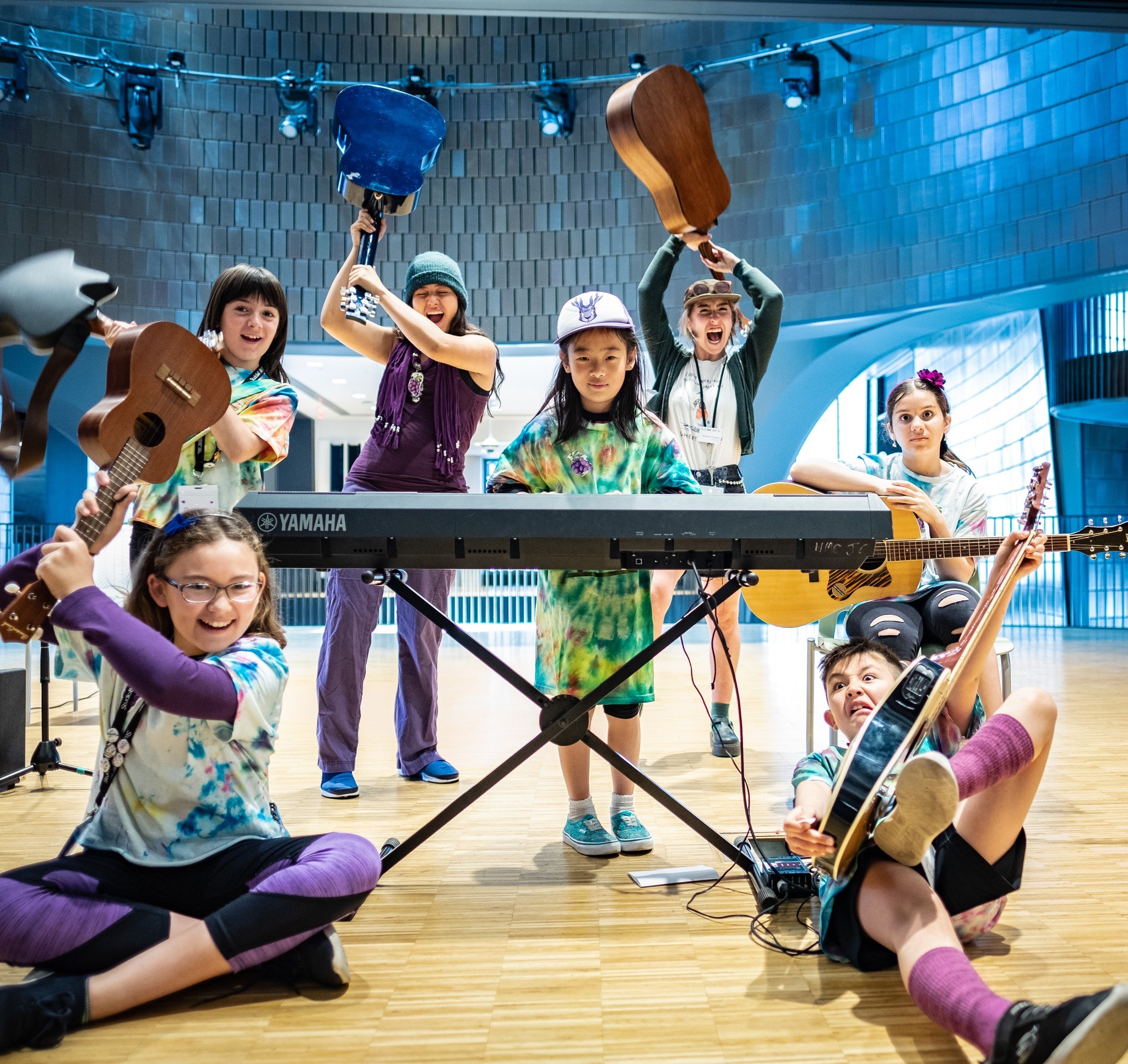 Details
Build a Band is a one-week day camp program.
The cost of the camp is $399 (+GST) per week.
Early drop-off (9:00 am to 10:00 am) and late pick-up (4:00 pm to 5:00 pm) can be arranged at an additional charge of either $30 (+GST) per day, or $120 (+GST) for the full week.
Sibling discount: Register one child for camp and get a discount of 20% (+GST) off per additional sibling.
No need to bring your own instrument unless you prefer to do so!*
This year, we're offering campers the option of receiving an EPK (Electronic Press Kit) at the end of their camp. For $150 (+GST), campers will receive:
- An mp3 of the song they recorded throughout the week
- High-definition images of them playing in their band
- The full-length HD video of their showcase performance
- Band posters to share with friends and family
NMC's Approach

Our summer camps put expression and exploration above accuracy and technicality, giving kids more freedom than a traditional music class.
The most valuable life skills come from the collaborative component of playing in a group:
When you work as a team in a non-competitive environment, to produce music, you plant seeds of future collaborative skills that can translate into many life experiences, influencing how you work with and relate to other people.
Knowing how to accompany other musicians in a supportive and listening manner can help prepare you for conversations throughout your life that require you to develop patience and understanding. The connections that you make on a stage can help you assert your own voice as well as genuinely listen to others.
WHAT WILL CAMPERS DO?
Campers will learn the basics of jamming and playing as part of an ensemble
Campers will learn about songwriting and lyrical structure
Campers will learn how to record a song
Campers will explore making band merchandise & marketing assets
Campers will get an exclusive tour of Studio Bell as well as NMC's recording studios.
Parents, family and friends are invited to the week-end performance which takes place in the Performance Hall
For more information, please email education@nmc.ca
*NMC has a fleet of acoustic and electric guitars, basses, keyboards, drums, ukuleles and some miscellaneous instruments in between! If your instrument of choice is particularly niche, or is a wind instrument of any kind, we recommend that you bring it with you.